November doesn't have to be just a dark dreary month in London. We've put together a load of events which will keep you creative, curious, warm and stylish. Check out our top 10 and let us know which events you attend.
1. Crafting Creative Campaigns With Guap
Where? Apple, 235 Regent Street, London, W1B 2EL
When? 1st Nov, 18:30 - 20:00
What? Join GUAP co-founder Ibrahim Kamara as part of a series exploring the creative side of business. He'll share how the magazine began and you'll explore what it takes to pitch a business idea, then use iPads and Apple Pencil to storyboard a creative campaign of your own. All for free!
If? You're looking for a good excuse to start that creative campaign you've been meaning to do and some creative business inspiration.
Where? Museum of London, Smithfield, 150 London Wall, London, EC2Y 5HN
When? 1st - 11th Nov, 10:00 - 18:00
What? A London treat revealing the action throughout the night fusing together documentary, photography and film to showcase over 100 years of the unimaginable happening in London's nightlife.
If? You think strange happen at night then you definitely need to see the nocturnal London City, with ravers keeping the dynamic going around the clock. 
Where? Stable Street, Kings Cross, London N1C 4AB
When? 2nd - 4th Nov, 10:00 - 20:00
What? Coal Drops Yard is now OPEN. Celebrations kick-off with 3 days of free parties and events featuring music by NTS, creative workshops, shopping, entertainment and tours.
If? You haven't been able to check out Kings Cross yet and you're not going to let the change in weather stop you from having a good time.
4. Peckham Warehouse Kilo Sale Weekend
Where? Copeland Park & The Bussey Building, 133 Copeland Rd, London, SE15 3SN.
When? 3rd- 4th Nov, 10:00 - 16:00
What? A paradise for rummaging and reworking your wardrobe. Thousands of clothing items to choose from covering menswear and womenswear. The selection ranges from vintage, retro to branded items from late 60's – early 00's.
If? You love to mix and match, pull up your sleeves and rummage through tonnes of clothes to get the unique style you're after. 
Where? Bernie Grants Art Centre, Town Hall Approach Road, Tottenham Green, London.
When? 10 - 29th Nov (check website for exact days and times)
What? A film taking you through the journey of the proactive Sri Lankan artist and musician Matantgi /Maya M.IA. Showing the battles she faced through the music industry and mainstream media to become the successful famous face she is today. Watch the trailer here!
If?  You would like to see never seen before footage, spanning decades, from an artist and musician who continues to shatter conventions.  
Where? Olympia London, Hammersmith Road, London, W14 8UX.
When? 10th - 11th Nov, 10:00 - 18:00
What? London's biggest drum show featuring performances, classes and a chance to try the latest gear all under one roof.
If? You have ever wanted the chance to tap those sticks to the beat or you're a pro searching for the perfect drumhead then this is just up your street.
7. Pause Magazine Pop Up Event
Where? The Yard 89 & ½ Worship Street, Shoreditch, London, EC2A 2BF
When? 11 Nov, 12:00 – 22:00
What? A pop up event from the youth style magazine Pause. This event will deliver straight fire style and offer a feel good vibe with music and food.
If? You're a street wear enthusiast and want the latest garmz all in one space, "pause" and look no further.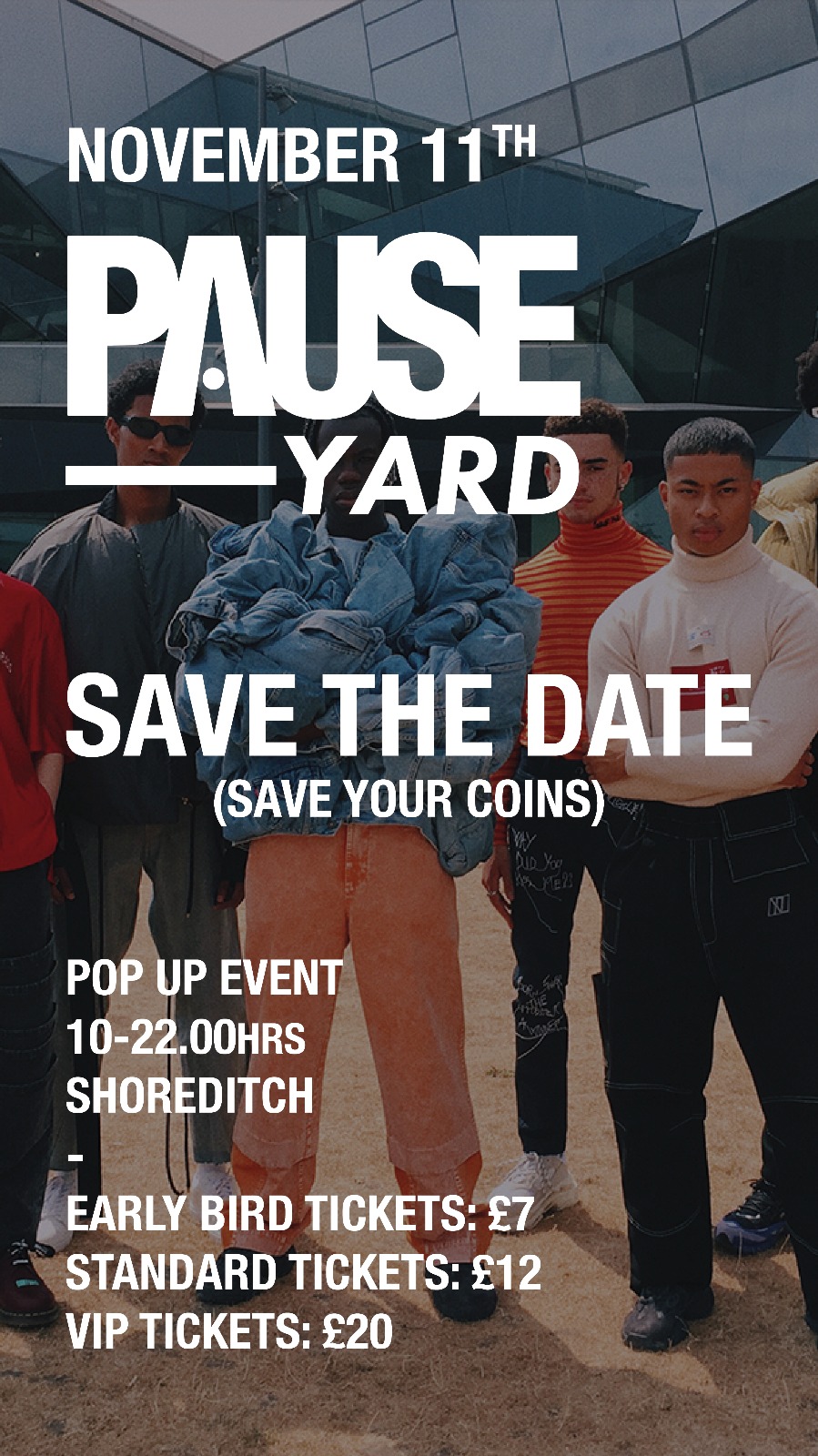 Where? The Dutch Master, Tower Millennium Pier, Next to Tower of London, EC3N 4AB.
When? 24th Nov,  First Release: 18:45 - 22:45. Final Release:19:45 -00:00.
What? A silent disco along the River Thames. Sightseeing with a twist. There will be a bar and dance floor on deck so you can throw some moves and whisper some party anthems.
If? You have ever wanted to drift along the River Thames and see the famous landmarks while choosing the sound track. 
9. Hooked
Where? Science Gallery, London Bridge, Great Maze Pond, London, SE1 9GU.
When? On going event till 2019
What? You will be "hooked" into this exhibition with fascination as you uncover how your mind ends up vulnerable for the need of something.
If? Have you ever wondered what addiction looks like? Look no further, just into your mirror as we are all hooked on to something; weather its gambling, shopping or using your iPhone. 
10. Video Games: Design/Play/Disrupt
Where? V&A, Brompton, Cromwell Rd, London, SW7 2RL.
When? On going till 24th Feb.
What? An exhibition which starts with the nitty gritty side of video-gaming, the history and culture but then the BOOM! You've hit the noughties and it's a whirlwind of fun and tech.
If? You're feeling a bit nostalgic, into large scale interactive installations and want a unique insight into the design process of video games.